Production Planner Composite Components (CFRP) Aviation (m/f/d)

Shanghai
|
Shenyang
Create the companies of tomorrow with us! To further expand our project teams in China we are looking for qualified support at different locations!
You will be responsible for the planning of manufacturing concepts for fibre composite components, the development of automation and handling concepts as well as the selection of processes.
You will analyse, design and realize the manufacturing structures and process sequences, derive requirements for the component design and implement these in a competent planning.
You will also be responsible for process planning and the preparation of specifications for system selection.
In addition, you will manage material qualification and identification of alternative or substitute materials for the continuous optimization of production and process
You have successfully completed a degree in industrial engineering/engineering in the field of production/process or plastics technology.
In addition, you have relevant experience in manufacturing processes of fiber-reinforced plastics and knowledge in the single-part production of CFRP components, which you have ideally gained in the aviation industry.
Excellent communication and presentation skills, including quick understanding and active listening, good team player.
Ability to work independently with customers in complex project tasks as well as working in international project teams.
Excellent command of English and Chinese or German.
Based in Shanghai or Shenyang Office. Willingness for domestic and international travel over longer project durations is required.
A modern, team-oriented working environment with many opportunities for personal development and further training on the job.
Due to the worldwide presence of our customers, you have the chance to gain knowledge and experience in international projects.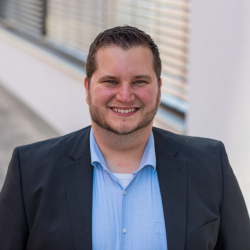 Your contactperson
Cedric Eden
Tel: +4973193680264
Application form is loading ...