Material Planner (m/f/d)

Tuscaloosa
|
Charleston (SC)
Create the companies of tomorrow with us! To further expand our project team in Charleston and Tuscaloosa we are looking for qualified support!
Order all production material, sample parts, prototype trial parts and repair parts.
Track and communicate all expedites to cross-functional teams until fully received.
Analyze all incoming shipments and communicate root cause for delay.
Monitor supplier performance and request countermeasures for delivery issues.
Investigate inventory and receipt of discrepancies, track and report all open invoices.
Monitor production parts on a continuous basis to prevent the occurrence of a shortage, and report to management in case of deficiencies.
Direct and assist suppliers to assure material is shipped in accordance with the material release and that correct communication of shipment is attained.
Ensure proper balance out procedures are followed to minimize obsolescence.
Review internal database for daily plant impact; provide, request and analyze root-cause.
Resolve inventory discrepancies through problem solving methodologies with cross-functional teams.
Monitor and correct all advanced shipping notice transmissions.
Investigate, track and dispose of obsolete material.
This is how you convince us
Bachelor's degree in Business Administration, Supply Chain/ Operations Management or other related field or the equivalent combination of education and experience.
Minimum of 2 years of professional experience in the manufacturing environment in areas such as Engineering Change Control or Supply Chain Management.
Working knowledge of MS Office (Excel, PowerPoint, Word and Outlook).
Working knowledge of SAP or comparative software.
Proven understanding of logistics process flow.
Our Benefits: This is what you can expect
Experience our open atmosphere, in which we work together as partners. What connects our teams across countries and projects you may ask? Our common visions - together we bring innovations forward! It is important to us that your career harmonizes perfectly with your personal life planning. To help ensure that this is the case, we are committed to providing you with a comprehensive range of benefits. Discover the benefits our employees enjoy here.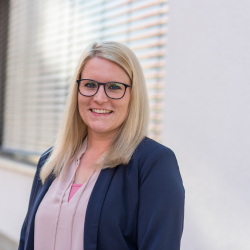 Your contactperson
Mareike Mueller
Tel: +4973193680266
Application form is loading ...