Marketing / HR and Office Support Intern (m/f/d)

Greenville
Ingenics is looking for a German speaking intern to support our Marketing, Human Resource, and general office / administrative functions. This will be a 6-month internship requiring onsite presence.
Updates ICA internal SharePoint on a regular basis with company related information.
Supports Marketing related activities such as:

Creation and support on Social Media platforms (e. g. LinkedIn)
Updating and maintaining marketing schedule in alignment with the Marketing department in Germany
Providing translation and proof-reading support for marketing related documents or papers
Website design in communication with Ingenics AG in Germany

Assists recruiting activities for current openings and future project needs.
Supports project acquisition process for open tenders (e.g., consultant profile creation, tracking / updating HR tools).
Assists HR related topics in the hiring / onboarding process such as teamwear and business cards ordering, computer setup with IT.
Provides assistance in creation of sales and internal presentations.
Perform other duties as required.
This is how you convince us
Pursuing Bachelor's or Master's degree in Business, Marketing, Human Resources, Operations Management/Supply Chain, or other related field.
Working knowledge of MS Office (Excel, PowerPoint, Word and Outlook).
Good language skills in German (not essential but useful)
Excellent communication and interpersonal skills.
Professional demeanor.
Ability to work 40 hours per week.
Our Benefits: This is what you can expect
Experience our open atmosphere, in which we work together as partners. What connects our teams across countries and projects you may ask? Our common visions - together we bring innovations forward! It is important to us that your career harmonizes perfectly with your personal life planning. To help ensure that this is the case, we are committed to providing you with a comprehensive range of benefits. Discover the benefits our employees enjoy here.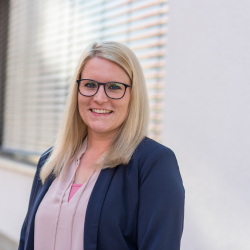 Your contactperson
Mareike Mueller
Tel: +4973193680266
Application form is loading ...