Warehouse Planner (m/f/d)

Greenville
|
Tuscaloosa
|
Charleston (SC)
Create the companies of tomorrow with us! To further expand our project teams in the US we are looking for qualified support!

Lead Project Meetings With Commercial, Facilities, And Technical Team(s).
Design the Layout And Material Flow. Including, But Not Limited To: Gatehouse And Yard , Goods Receiving, Put away, Picking, Loading, Material Preparation, Shuttles To And From Plant Site, Waste Flow, Empty Container Flow.
Secure Equipment By Specification. Including, But Not Limited To: Industrial Vehicles, Chargers, IT Hardware, Safety Equipment, Break Area Equipment, 5S Visualization Supplies.
Vendor Management, Including Oversight Of High Racking Install.
Coordinate The Facilities Contracts (Utilities, Waste, Janitorial, etc) with The Facilities Department.
Coordinate The IT Infrastructure, Install With The IT Department.
Be the Logistics Contact for Steering The Building Construction.
Test IT Systems And Setup System Parameters.
Ensure FTZ Compliance.
Calculate The Optimal Manning Balance.
Create work sheet For Each Job Function.
Train Team Members And Support The Facility Ramp Up.
Report Project Status and KPIs to Management in Project Steering Meetings.
This is how you convince us
Bachelor's degree in Logistics, Engineering, Operations Management or related field.
Minimum of 5 years of professional experience in warehouse planning, material flow or logistics experience in the manufacturing setting.
Working knowledge of MS Office (Excel, PowerPoint, Word, Project and Outlook).
Our Benefits: This is what you can expect
Experience our open atmosphere, in which we work together as partners. What connects our teams across countries and projects you may ask? Our common visions - together we bring innovations forward! It is important to us that your career harmonizes perfectly with your personal life planning. To help ensure that this is the case, we are committed to providing you with a comprehensive range of benefits. Discover the benefits our employees enjoy here.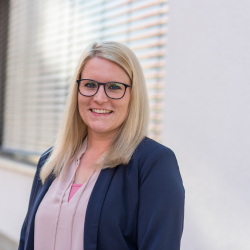 Your contactperson
Mareike Mueller
Tel: +4973193680266
Application form is loading ...